Anyone who follows my blog knows I am a huge anime nut. If I wasn't married with kids, you'd probably see me as an "otaku" for sure. Anime has been a part of my life since the 60's. I mean, I watched the original anime in Speed Racer, Gigantor, and Astro Boy. It helped form my own imagination, my views on fantasy, science fiction, and storytelling as a writer. You can't watch a Hayao Miyazaki movie and not be moved by the visuals, the music, and the story. That's how much anime has influenced me as a writer.
That said, there are a lot of great anime series out there that only got one season. For some reason or another, the studios decided to stop after just 12 episodes. I think it's a shame that these anime didn't get a few more under their belt, especially for their fan base. Here's my top five choices for renewal into a second season.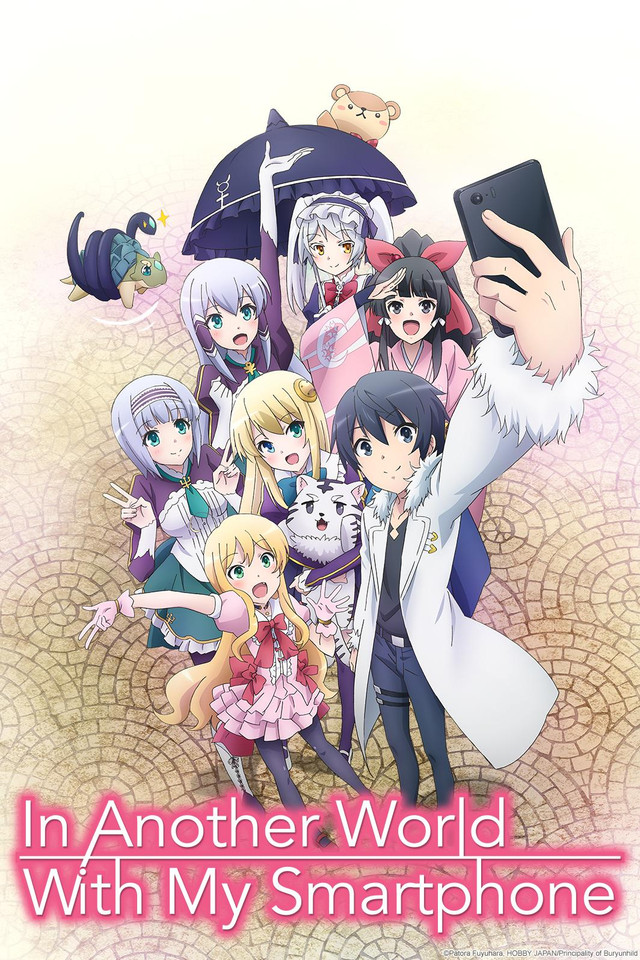 In Another World with my Smartphone — This is really a "guilty pleasure" anime but it's also quite imaginative in its design. Fifteen-year-old Touya Mochizuki is accidentally killed by God. As an apology, God allows him to be resurrected, but since he cannot send him back to his old world, he instead reincarnates him into a fantasy world along with a single special request. Touya uses his request in order to bring his smartphone into the new world with him. The premise sounds ridiculous, but the storytelling is infectious. You have an awkward 15-year-old thrust into life as a adventurer, engaged to four cute, yet very resourceful girls, and one his way to becoming one of the most powerful beings in his new world. Like other anime, I have been reading the light novels associated with this series, and I would love to see it brought back in anime. It's witty and full of fantasy. Yes, Touya is OP (over-powered) but his naivety brings him down to Earth, as does his relationship with his four (nine by the end of the novel series) wives.  It's just a delight to watch and I wish they'd make some more episodes.
Knight's and Magic — Most of my favorite anime's are "isekai" or where the main character is transported to another world. This one is no exception. Knight's & Magic is set in a world where medieval knights use giant robots called Silhouette Knights to fight against demon beasts, magical ravenous animals that devour everything on sight. The protagonist is Tsubasa Kurata, a mecha otaku from Japan who gets killed in a car accident. Tsubasa is reincarnated in this new parallel world as Ernesti Echavalier, a boy born into a noble family. Tsubasa's previous otaku memories inspire Ernesti into creating his own Silhouette Knights in order to defend his kingdom. This one doesn't have the sex appeal of In Another World with my Smartphone, but it does have giant robots. It's actually weird how all the girls fall for talented genius Ernesti, but he ignores them all. He only loves his giant robots. I love how this anime infuses technology with magic, something you don't see a lot. Most standard fantasy stories stick to the straightforward fantasy yarns, but magic and mechs is a great plot twist. They even explain how it works using scientific principles. It's astounding. I want more, please!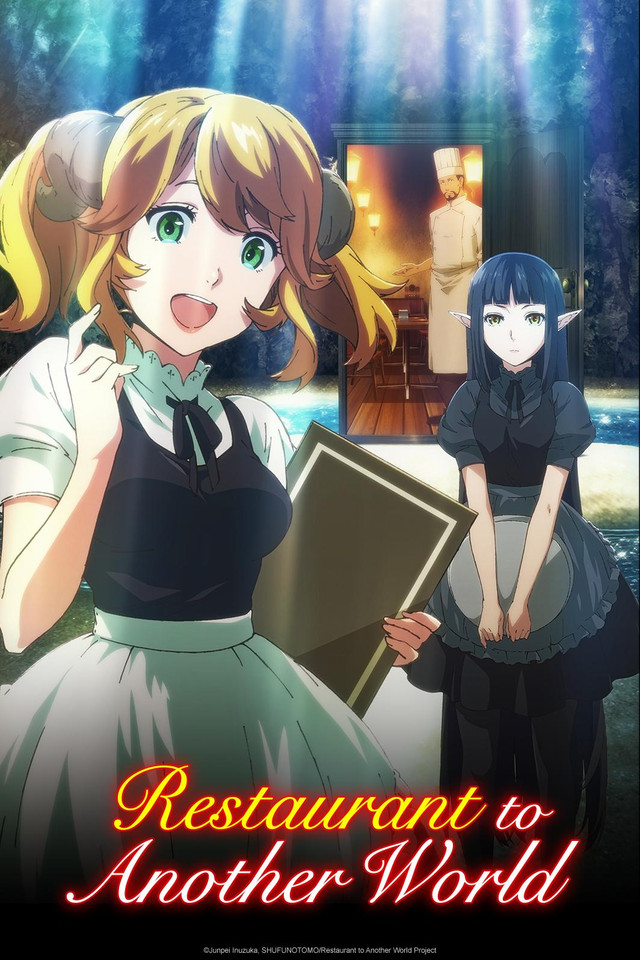 Restaurant to Another World — This is one of the more unusual anime, and to be honest, I only watched it recently but I enjoyed it tremendously. The Western Restaurant Nekoya is a restaurant situated in a mundane corner of an undisclosed Tokyo shopping district which offers a lot of Japanese versions of Western dishes. It opens during usual business hours though closed during holidays and weekends. But secretly it is also open on Saturdays, as on this particular day it creates doorways to another world inhabited by elves, dragons, animal men and other fantastic creatures, who enter the restaurant and partake of its exotic food, with many of them becoming regular patrons. It's really an exotic idea, introducing Japanese cuisine using a fantasy genre to tell the story. I mean, serving Tofu and Nattō to Elves because they're vegetarians? It's brilliant. I don't get into the cooking anime prevalent in Japan, but this one got to me. It's interesting how the cook knows exactly what to make them, and it brings the different races together to visit their favorite restaurant.
Log Horizon — Okay, technically, this series has had two seasons, but it needs a third really bad, so I'm including it in my list. Log Horizon revolves around the massively multiplayer online role-playing game (MMORPG) Elder Tale. During the release of its twelfth expansion pack: Homesteading the Noosphere, thirty thousand Japanese gamers who are logged on at the time of the update suddenly find themselves transported into the virtual game world and donning their in-game avatars. In the midst of the event, a socially awkward gamer named Shiroe, along with his friends, Naotsugu and Akatsuki, decide to team up so that they may face this world, which unfortunately has now become their reality, along with the challenges and obstacles ahead of them. There are quite a few "ikekai" anime series that revolve around video games becoming a real world to the players (Overlord, Death March to a Parallel  World Rhapsody, How Not to Summon a Demon Lord, etc.) but they are not Log Horizon. This one is the whole package with smart characters (Shiroe), cute characters (Akatsuki) and the coolest character (Chief Nyanta). I also like how it's not just about going on adventures, but how they have to live and survive in a real world based on a video game. I mean, they have to worry about money and food, not just fighting monsters. It's really broad in its scope and the characters make it fun to watch.
Chivalry of a Failed Knight — My final entry is, without a doubt, my favorite anime that I'm desperate for a second season. The story is set in an Alternate Earth world where humans called "Blazers" have supernatural abilities. These Blazers can materialize weapons known as "Device" which are made through a person's soul. At Hagun Academy, Blazers are selected as representatives for the Seven Star Sword Art Festival, an annual tournament event held by the seven Mage Knight Academies in Japan to determine the strongest Apprentice Knight. Ikki Kurogane is the academy's "F-Ranked" Blazer and is considered "The Worst One" for his low magical abilities, but Stella Vermillion, the princess of the European country Vermillion, is one of the top "A-Rank" Blazers. The series follows their adventures as they train to qualify as the school's representatives for the festival. This series is the whole package… Romance, fighting, magic, adventure, intrigue, you name it. Everyone discounts the underdog hero who wins through skill, grit and determination, not power alone. There are great sub-stories within the series that makes this even more exciting to watch.
There are a few others I could mention here, like Trinity Seven, Hundred, Miss Kobayashi's Dragon Maid, and The Irregular at Magic High School, although a couple of them had follow-on movies and another season is said to be coming. If I missed any that you want to see a second season of, tell me in the comments below. Until then, keep watching!
###
Mark Piggott is the author of the Forever Avalon book series. Forever Avalon is available for purchase as a paperback/ebook at Amazon. The Dark Tides is available for purchase as a paperback/ebook at Amazon, Barnes and Noble, and iUniversepublishing. The Outlander War, Book Three of the Forever Avalon series is coming soon from Austin Macauley Publishing.