I was sad to hear about the passing of the legendary actor Sir Sean Connery. He was a mainstay in Hollywood and his movies are, without a doubt, some of the best out there. As an actor, his movies crossed generations from the 1960s to today. There was only one Sean Connery and he will live forever in his countless memorable film roles. So, I wanted to take the time and give my list of his best movies. I know we all have our favorites, and both writers and sci-fi/fantasy fans are quite particular about their "favs" more so than other genres. But these are mine, and I hope you can relate to my choices.
I want to start off with an Honorable Mention. In Robin Hood: Prince of Thieves (1991), Connery cameoed as King Richard the Lionheart at the end of the movie, "photobombing" the wedding of Robin and Marian. I was shocked when I saw it in the theater and its one of my all-time favorite cameo appearances by any actor. Little trivia note, Connery played Robin Hood in the 1976 movie, Robin and Marian next to another legendary actress, Audrey Hepburn.
Another Honorable Mention is Time Bandits (1981) as King Agamemnon. It was a small part but quite memorable in this crazy, wild, wonderful movie. He was formidable as Agamemnon, and played the role with the fun that was Time Bandits. For some odd reason, when he asked the boy for his name and replied "Kevin?" as if it was a weird name (which it would be in ancient Greece) that sticks out in my head. So funny!
At number FIVE, it has to be Indiana Jones and the Last Crusade (1989). Although Connery took second billing to Harrison Ford, he stole the show as Indiana's father. His comedic moments were spot on, as were his tender ones. The part was a perfect fit for Connery as the aging archeologist who never went in the field. His portrayal was witty, charming, and sometimes maniacal. I loved it at the end when he said, "We named the dog Indiana!"
However, Harrison Ford said it best when he eulogized Connery…
"He was my father…not in life…but in 'Indy 3,'" Ford said in a statement sent to Variety. "You don't know pleasure until someone pays you to take Sean Connery for a ride in the side car of a Russian motorcycle bouncing along a bumpy, twisty mountain trail and getting to watch him squirm. God, we had fun — if he's in heaven, I hope they have golf courses. Rest in peace, dear friend."
At number FOUR, the adaptation of Frank Miller's The League of Extraordinary Gentlemen (2003) was panned by critics and fans of the graphic novel alike. However, I loved the movie, and enjoyed it through and through. Connery as the dashing yet forgotten hunter and hero Allan Quatermain was great casting for this movie. Even though they changed some things from the book, i.e. adding Tom Sawyer as a U.S. Secret Service agent, it was an eye-popping, steampunk-style story, which is why I liked it. The father/son relationship between Sawyer and Quatermain was a special aspect of the movie as well. It reminded me of Connery passing on the torch to the next generation of actors as this was his last movie role.
At number THREE, The Hunt for Red October (1990) was a classic Connery role. As a retired U.S. Navy sailor, this is a no-brainer. The novel was great and the movie, even better, thanks to Connery. During the Cold War, this movie was the ultimate representation of the U.S./Russia relations at that time, but it also represented the hope that we could come together. It was also a great Navy movie, with submarines, aircraft carriers, destroyers, frigates and the like. This was "Top Gun" but for surface warfare nerds like me! Connery was commanding in this role with a great supporting cast that gave us one of his best movies. You can't watch the scene where they are being attacked by a Soviet submarine hunter, as the torpedo closes in, and Connery's Captain Marko Ramius is as cool as a cucumber, shouting orders. He was like "James Bond under the ocean" cool.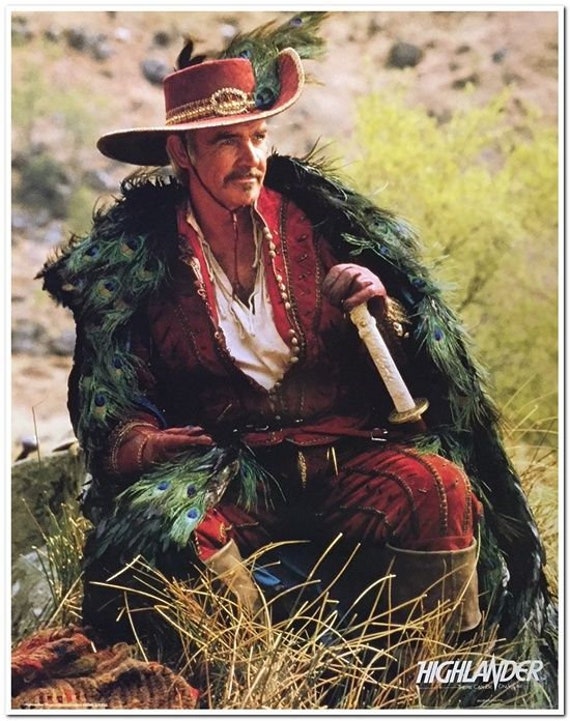 At number TWO on my list is Highlander (1986) and this was an AWESOME movie! Connery starred as Juan Sánchez-Villalobos Ramírez, an immortal from ancient Egypt who carried a Japanese katana made by the great swordsmith Masamune and fought against the villain of the movie, The Kurgan, over centuries in in Babylonia, Greece, and ancient China (phew!) until he met Conner MacLeod. I know that's a lot to take in but that's what made this movie and this role so memorable. Here you have a character whose origins span centuries and Connery portrayed it as if he lived those experiences. I mean, the costume alone made the role believable. How can you go wrong with a cape made of peacock feathers. Connery portrayed the role that he's familiar with, as a mentor and friend, and he does it incredibly well. The beach scene where he introduces MacLeod to "the Quickening" was one of my favorites, as was the fight with the Kurgan in MacLeod's castle home. My favorite quote is when he tried to explain being an immortal. To me, it's a philosophy on life.
"Why does the sun come up? Or are the stars just pinholes in the curtain of night? Who knows?

Juan Sánchez-Villalobos Ramírez, Highlander (1986)
There was only one NUMBER ONE in mind when it comes to Connery, and it has to be his most iconic role… "Bond, James Bond!" But to pick one of his six films (not counting Never Say Never Again (1983) which was just a reboot of Thunderball (1965) with a retired Bond) was a hard decision. Still, if I have to go with one movie, I picked Goldfinger (1964) as his best Bond film. First off, some of the best names in cinema (Pussy Galore, Odd Job, Goldfinger) as well as top notch weapons, gadgets, and plot twists. Plus, to be killed by being painted in gold is a horrible way to die and one of the most intriguing. It was his best work as James Bond, and I never miss a chance to watch it.
There are too many other great movies to mention in one sitting… Outland (1981), The Untouchables (1987), The Rock (1996), Entrapment (1999), Finding Forrester (2000) and even the voice over in Dragonheart (1996). All of his movies are too memorable and will live in annals of great cinema. He won numerous awards from an Oscar, Golden Globes, a Tony, even an MTV movie award. He was honored with an AFI Lifetime Achievement Award, Kennedy Center Honors, BAFTA and more.
Yet, with all those honors, it doesn't matter. We will always remember the great actor, the humanitarian, the Scotsman, the knight, the man… Sir Sean Connery.
# # #
Mark Piggott is the author of the Forever Avalon fantasy book series. Forever Avalon is available for purchase as a paperback/ebook at Amazon. The Dark Tides: Book 2 of the Forever Avalon Series is available for purchase as a paperback/ebook from iUniverse Publishing and at Amazon, and other booksellers. The Outlander War, Book Three of the Forever Avalon series is available for purchase as a paperback/ebook from Austin Macauley Publishing, and at Amazon and other booksellers.